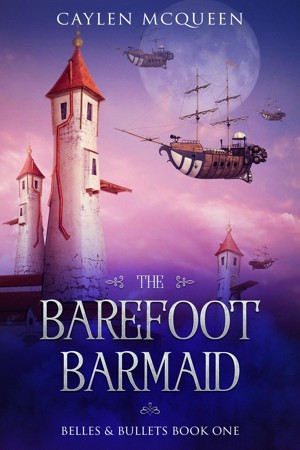 ---
---
Synopsis
---
Countless wanted posters have been blessed with the roguishly handsome face of Captain Francis Doon. The notorious sky pirate has a reputation for wickedness, and he wouldn't trade it for the world. He's a sharpshooter, a schemer, and his skills with a sword are unparalleled. His people skills, however, leave something to be desired.
Doon's biggest pay day arrives when he finds the runaway Princess Lyneah in a dodgy Lundun pub. Her feet are bare and her hair's chopped off, but he knows he's found the princess. Eager to reap a reward for Lyneah's safe return, he whisks her away on his airship.
But there's one major problem. He's taken the wrong girl. Doon's princess is actually Kitt Lake, a barefoot barmaid from the Lundun slums. And she isn't happy about it.
The Barefoot Barmaid is a swashbuckling adventure with steampunk elements. It is the first book in the Belles & Bullets series.
---
---
Categories:  Fiction » Science fiction » Adventure » Romance » Fantasy » Steampunk & retropunk » Sci-fi
---
---
Download Formats 
---
---